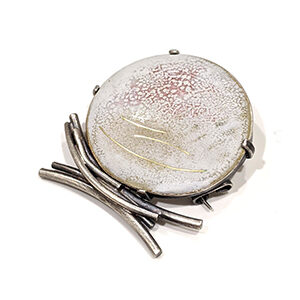 Brooches can often be thought of as old fashioned but in reality they offer a great way to brighten an outfit, express yourself and are so versatile in giving lots of ways to wear them. A brooch is like having a small artwork to carry with you. Many contemporary styles are bold and make a statement, they are a simple way to lift an outfit, and change up your look. So I thought i'd share with you some of my brooch designs and ways to style them.
Brooches are one of my favourite pieces of jewellery to make. I like a brooch because it's like a mini piece of art that can be worn in a variety of ways, unlike other pieces of jewellery there feels less constraints by how or where it will be worn which offers a certain amount of freedom in size, shape and detail. For example, with a necklace or pair of earrings, the way they sit or hang, how they connect and sit on the body has to be carefully considered to make something that is comfortable and sits well when being worn. With a brooch the fastening is generally on the back so gives freedom to the design in that it is pinned on, it doesn't need to hang or sit around a specific part of the body, yet comes to life when it is worn.
The weight of a brooch is important, something too heavy would drag and hang on clothing, by making your own brooch pins you can fasten the brooch on so that it will sit well. I think there is something really beautiful about making your own brooch fastenings, it gives opportunity to be inventive but can also add interest and beauty to the back of a piece.