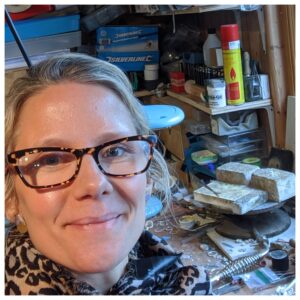 Welcome to the world of Miranda Sharpe Jewellery, where I get to fuel my passion for tinkering around with tools and bits of metal to create beautiful, vibrant and lively jewellery pieces for you to shine in.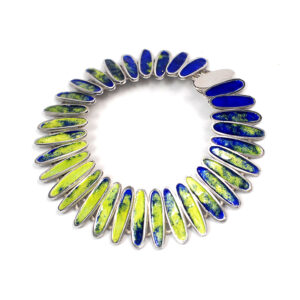 My jewellery collections offer bright, rich and sophisticated colourful enamel jewellery. A visual delight of colour, with subtle details of pattern and texture to draw the eye and lift the spirits, it should be a joy to wear! Whether a small and simple pair of studs that bring a pop of colour to your look, or a larger, more complex piece of enamelled jewellery that is elegant, bold and bright it should make you feel special and express who you are.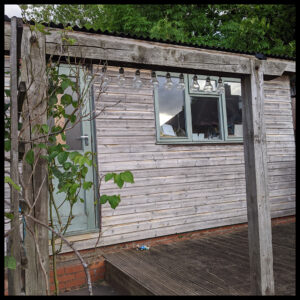 Miranda Sharpe Jewellery was established in 2000; over the years I have evolved a unique contemporary style and reputation for beautifully handmade pieces of jewellery. All of my collections are designed and handmade in my Birmingham (Garden) workshop. Necklaces, rings, earrings, brooches, bangles and bracelets are handmade in silver and vitreous enamels. The addition of gold, diamonds, semi-precious stones and beads add to the luxury feel of the jewellery.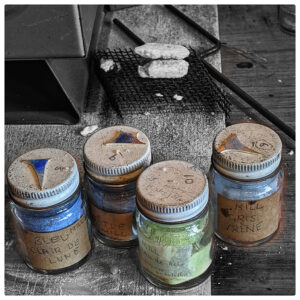 My current jewellery collections draw inspiration from microscopic images of disease and bacteria. A somewhat unappealing subject choice came from an interest in our senses and how we respond emotionally to a subject matter and our perceptions of beauty. The discovery that these images can be immensely beautiful and like abstract works of art proved to be very inspiring. Pattern, shapes and form become the starting point for design ideas combined with a love of colour. Colour is an integral part of my work, and exploring vitreous enamel as a material that offers endless possibilities to experiment with both colour, texture and pattern. Subtle or bold layers of enamel colour are the finish to pieces, sometimes incorporating precious stones or beads. Many pieces in the collections are repeatable items but small details in the making and enamelling make each one unique.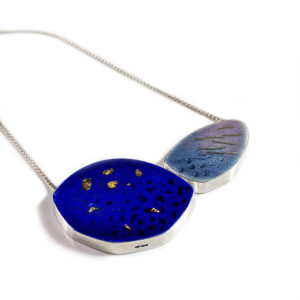 I enjoy working on one-off and limited edition pieces, where a variety of enamelling techniques are used to build layers of colour, pattern and texture that are worked into and evolve through the process to create rich painterly qualities.
If you like my style and would like a jewellery piece just for you, we would love to hear from you and work with you to make your perfect bespoke piece of handmade jewellery. Contact me at info@mirandasharpe.co.uk 
I graduated with a Masters degree from the Birmingham School of Jewellery in 2000, with a passion to create and make. I really love the process of designing and making, its a constant investigation of materials and ideas and each new experiment feeds my imagination. Making items that are wearable adds a whole new dimension to the design of an object and each piece comes to life when it is worn. I aim to make pieces that will be treasured, that capture your imagination and become part of your story of self expression.